The UP Cebu Creative Writing Program of CCAD is now accepting submissions for the 3rd Tagik Landasan Writing Workshop, to be held in October 9-10, 2023 at Multimedia Room (Day 1) & Joya Gallery (Day 2).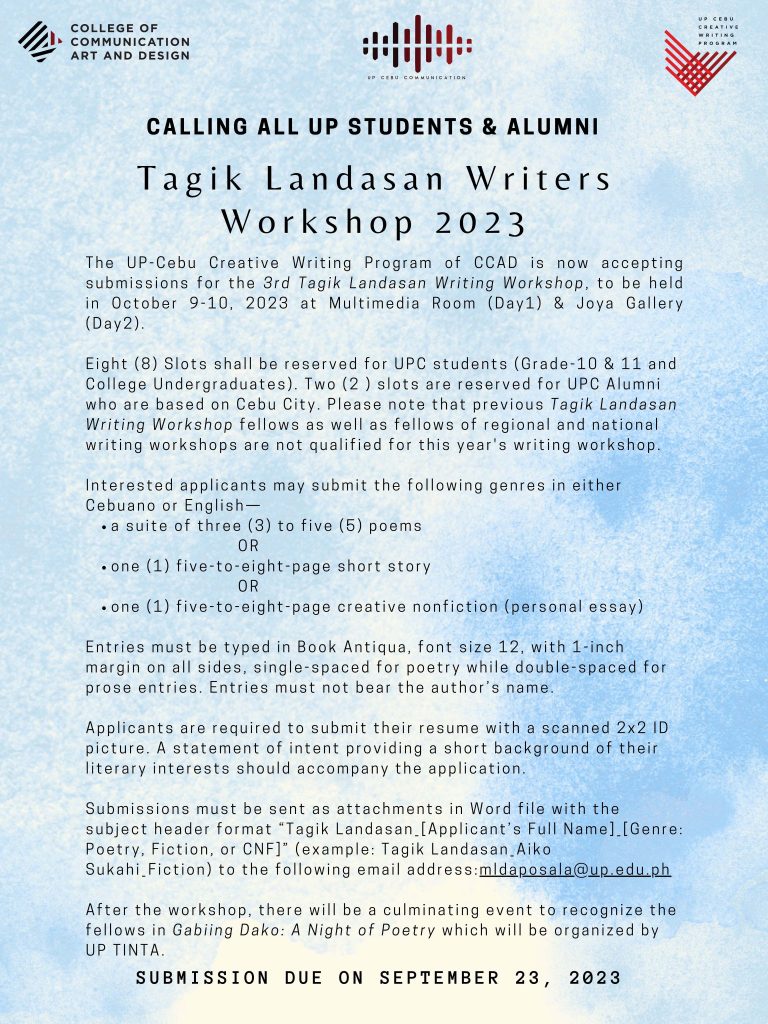 Eight (8) Slots shall be reserved for UPC students (Grade-10 & 11 and College Undergraduates). Two (2 ) slots are reserved for UPC Alumni who are based on Cebu City. Please note that previous Tagik Landasan Writing Workshop fellows as well as fellows of regional and national writing workshops are not qualified for this year's writing workshop. Interested applicants may submit the following genres in either Cebuano or English—a suite of three (3) to five (5) poems; one (1) five-to-eight-page short story, or one (1) five-to-eight-page creative nonfiction (personal essay).
Entries must be typed in Book Antiqua, font size 12, with 1-inch margin on all sides, single-spaced for poetry while double-spaced for prose entries. Entries must not bear the author's name. Applicants are required to submit their resume with a scanned 2×2 ID picture. A statement of intent providing a short background of their literary interests should accompany the application.
Submissions must be sent as attachments in Word file with the subject header format "Tagik Landasan_[Applicant's Full Name]_[Genre: Poetry, Fiction, or CNF]" (example: Tagik Landasan_Aiko Sukahi_Fiction) to the following email address:[email protected] After the workshop, there will be a culminating event to recognize the fellows in Gabiing Dako: A Night of Poetry which will be organized by UP TINTA.